Experimental methods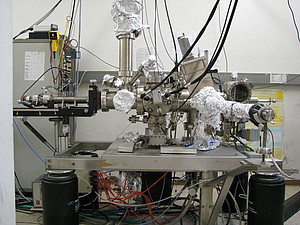 We are currently running 12 UHV (Ultra-High Vacuum) machines, each equipped with Basic preparation and characterization tools (e.g. Low Energy Electron Diffraction (LEED), Auger, XPS, mass spectrometry (MS), sputtering (cleaning) and heating devices as well as evaporation tools).
The principal Analysis methods applied in our group are:
STM (scanning tunneling microscopy; LT, VT, RT, EC)
AR-UPS (Angle Resolved UV Photoemission Spectroscopy)
HR-XPS (High Resolution X-Ray Photoelectron Spectroscopy)
Standard XPS/UPS
HREELS (High Resolution Electron Energy Loss Spectroscopy)
IRRAS (IR Reflection Adsorption Spectroscopy)
SFG (Sum Frequency Generation Vibrational Spectroscopy)
SPA-LEED (Spot Profile Analysis LEED)
Cyclic voltammetry
Thermal Desorption Spectroscopy (TDS)
Contact
Surface Science Group, Institute of Physics, University of Graz
Universitaetsplatz 5
8010 - Graz
Prof. Dr.
Martin
Sterrer
for a certain contact please visit our "Staff members" page